Urban and landscape
Projects
ingélux designs lighting illumination solutions in France and around the world, often in close cooperation with renowned artists.
We base our approach on a detailed analysis of the site (urban/architectural approach as well as technical analysis), so that the lighting solution is perfectly suited to its context.
ingélux designs and monitors the installation (lighting, electricity, wiring, equipments, positions luminaire, verification of performances).

Shanghai Expo 2010, Urban Best Practice Area
Client : ERAI.
Design of lighting over 15 hectares, with 2000 light sources.

Eiffel Tower Paris, Client SETE, (2008)
Lighting of the lower part and surroundings, field assessment, lighting design, monitoring of installation, control tests.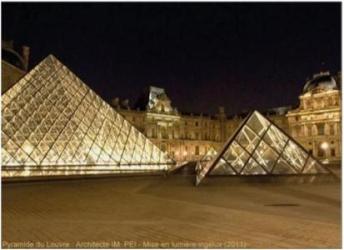 Facades of Louvre Museum and Pyramide, Paris (2012)
Design of lighting with LEDs, technical specifications, testing of prototypes, adjustments, solar protections.

Lighting of the higher locations, Dunkerque
Feasibility study, global lighting project with identification of key sites.