Leisure parks are developing in Europe with various concepts.
In these parks, lighting intends to bring emotional effects as a support to global concepts raised by each park.
ingélux has developed lighting solutions offering lighting ambiances answering and strengthening the image of several leisure parks, including aquatic ones.

Solutions are developed ensuring a high visual comfort with color variations suitable for all users, whether indoors, outside or in aquatic environments.
ingélux handles lighting transitions between day and night to make places even more magical.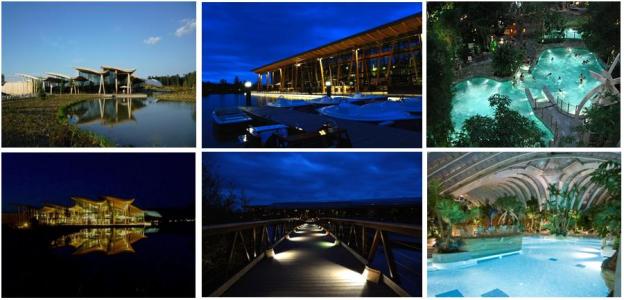 Center Parcs-Halles (Moselle)
Field assessment, development of a lighting guidelines. Application in the conception of a new Center Parcs.
Architect: Art'ur / BE: Girus Study: 2007-2008

Parc Asterix (Paris)
Setting nocturnal light throughout the park for Christmas, in collaboration with the lighting designer Peter Zygadlo.
Selection of lighting installations, adjustments.