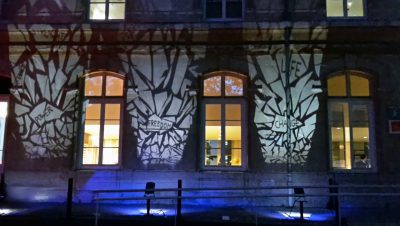 During the "Night of the museums", six projects from students and apprentices in lighting design&management (IAE) illuminated the courtyard of "the Resistance and Deportation History Center", with Resistance as a theme.
First concept was developed for the "Fête des Lumières 2015" in Lyon. The project presented here has been designed by Elisa Mori, ingelux apprentice, and Benjamin Maisse.
The idea follows the growing feeling to be oppressed, sense of hopelessness and discontent, situation from which people may react so as to break and transform the situation to a better future.
To express this idea, Elisa and Benjamin decided to piece together the puzzle of the broken mirror, taking advantages from the reflecting properties of this simple material, and recomposing this way the new façade of the museum.